Christmas In July - Class Openings

We have seats available for our classes today and on Saturday! Next week class schedule will be posted later today. Join us for an afternoon and make a fun, simple project that would be great to keep or give as a gift. We will be using our classroom machines for these classes and all fabrics are provided, so just bring your favorite pair of thread snips and be prepared to have a great time! The 12 days of projects begins on Monday, July 17th. Please be sure to register for all these classes at least two days in advance so we can prepare kits. Click on the project to see our calendar and register:
Day 4 - Applique a cute Gnome onto a Tea Towel with guidance from Kathy
Friday - We have an Embroidery Demonstration for this day. Don't forget to sign up!
Day 5 - Create an Eyemask with fun embroidery features with April


Click on the image for all the details of the new BERNINA 790 Pro !
Then come see us to trade up your BERNINA 5 or 7 Series.....
Have you been waiting for a new Top-of-Line BERNINA? Well wait no longer! Our current BERNINA 880+ is an awesome sewing and embroidery machine and we have dropped the pricing to rock bottom. Purchase the BERNINA 880+ and we have an unbelivable Trade-In offer when the next TOL is introducted! Enjoy a new machine now and an Instant Trade-Up with the new TOL coming soon!
Stop in and learn all about our BERNINA 880+ deal! No phone calls please. We do not give pricing on our TOL machines over the phone.
Bloomsville by Tilda has arrived! Check out Tilda's World for inspiration and free patterns.
.
New Arrivals! Canvas fabrics in beautiful prints and basics. Great for bags, aprons, shorts, home decor.... Check out Margaret's cute tote bag and bucket hat!
Quilt Kits - Now available in Pretty Creepy Collection from Free Spirit Fabrics

We have ONE Out-Of-The-Box Special Pre-Owned 880Plus with low stitches
Only $7,999
Includes Embroidery Module, Hoops, and original accessories! Also includes Stitcher's Quest one-year extended warranty and Machine Mastery classes.

Summer is a great time to have your BERNINA Serviced! Our waiting times are currently low for tech service. We service all models of BERNINA.
Are you ready to finish your quilt tops? Get them out of the closet and bring them here for our longarm Quilting Service. If you like to free-motion or do ruler-work, you'll appreciate that we have added a Basting Service. We also have great choices of backing fabric and high quality batting.
It's all about the THREAD!
We've added Glide Mini-King Spools to our thread line! Glide offers superior coverage for all your sewing applications. Uniform & complete coverage (fill) provides a unique look. Glide runs virtually lint-free through your machine's needle & tensioners utilizing a special technology to capture a beautiful luster within the fibers of a colorfast polyester. This will be your new favorite thead for machine embroidery! This thread is high quality, reasonably priced, and made in the U.S.A.
Our Clearance Fabric has new additions!
In-Store-Only Clearance Special: Save an additional $1 per yard when you empty the bolt of Clearance Fabric.

Everett's Cottage Thread Kit has ARRIVED and we have special, in-store only pricing!
New Arrivals! - BERNINA Thread Library and BERNINA Serger Thread Kit
here under our Monthly Programs.
Upcoming Classes
Oh, Sew Fun - Sewing Skills for Beginners Ages 9 and UP - July 15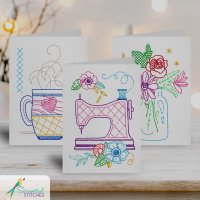 Embroidery Demo Days - July 21

Purchase a SewSteady extension table and save shipping by choosing "Pick Up In Store"