Look What's New!
Stitcher's Quest will close early on Monday, June 19th at 3 p.m.
Bloomsville by Tilda has arrived! Check out Tilda's World for inspiration and free patterns.
.
New Arrivals! Canvas fabrics in beautiful prints and basics. Great for bags, aprons, shorts, home decor.... Check out Margaret's cute tote bag and bucket hat!
Quilt Kits - Now available in Pretty Creepy Collection from Free Spirit Fabrics

We have ONE Out-Of-The-Box Special Pre-Owned 880Plus with low stitches
Only $7,999
Includes Embroidery Module, Hoops, and original accessories! Also includes Stitcher's Quest one-year extended warranty and Machine Mastery classes.

Summer is a great time to have your BERNINA Serviced! Our waiting times are currently low for tech service. We service all models of BERNINA.
Are you ready to finish your quilt tops? Get them out of the closet and bring them here for our longarm Quilting Service. If you like to free-motion or do ruler-work, you'll appreciate that we have added a Basting Service. We also have great choices of backing fabric and high quality batting.
It's all about the THREAD!
We've added Glide Mini-King Spools to our thread line! Glide offers superior coverage for all your sewing applications. Uniform & complete coverage (fill) provides a unique look. Glide runs virtually lint-free through your machine's needle & tensioners utilizing a special technology to capture a beautiful luster within the fibers of a colorfast polyester. This will be your new favorite thead for machine embroidery! This thread is high quality, reasonably priced, and made in the U.S.A.
June Special - Buy 3, Get 1 FREE on Glide Thread - available in 40wt King & Mini-King, 60wt King bobbin thread, 60wt pre-wound class M MagnaBobbins, and monofilament. Coupon Code: GLIDE
Our Clearance Fabric has new additions!
In-Store-Only Clearance Special: Save an additional $1 per yard when you empty the bolt of Clearance Fabric.
Quilt Kits and Pre-Cuts are 15% OFF during June!
Selected Embroidery Designs from Sweet Pea, OESD & Pickle Pie - Clearance Priced at 40% (and more) Savings! Check Sale/Clearance Items on StitchersQuest.com.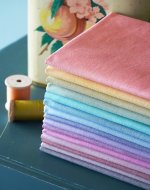 Tilda Chambrays 15% OFF during June! Have you discovered Tilda? Click: Tildas World – Perfectly imperfect
Bernette Sale extended through June 24!

Everett's Cottage Thread Kit has ARRIVED and we have special, in-store only pricing!
New Arrivals! - BERNINA Thread Library and BERNINA Serger Thread Kit
here under our Monthly Programs.
Upcoming Classes
SailingSchool Quilt - In Progress (3 weeks)
Oh, Sew Fun - Sewing Skills for Beginners Ages 9 and UP - July 15
Embroidery SPREE Club - June 19 & July 10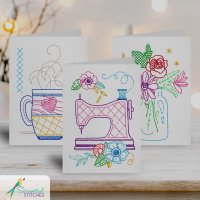 Embroidery Demo Days - June 23 & July 21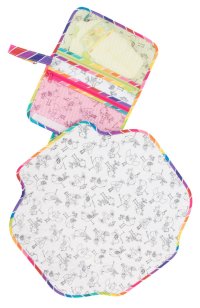 Changing Station - a ByAnnie Project - June 30

Purchase a SewSteady extension table and save shipping by choosing "Pick Up In Store"