May Specials

Live with Kaffe - FREE Event at Stitcher's Quest

Saturday, May 6 @ 11:00
Join us in the Stitcher's Quest classroom as we attend a virtual seminar with Kaffe Fassett.
A home viewing option is not available - this seminar is only available at a Bernina store.
Pre-Order Today and SAVE!
Thread Kit Only or we'll bundle the Thread Kit and Design
New Arrivals! - BERNINA Thread Library and BERNINA Serger Thread Kit
Just Announced and In-Stores Soon! We are taking Pre-Orders!


Bernina 570 Kaffe Special Edition!



New Monthly Programs!
Door Banner of the Month by Riley Blake
* Register now to begin in January - All kits must be ordered by July 2023
We are starting two Thread kit-of-the-month programs! Save 25% on Isacord or Glide thread in the mini-king spools (1100 yards) and expand your thread color collection! Register for the month you would like to begin and auto-pay each month. Glide is a 6-month program with ten spools per month. Isacord is a 12-month program with six spools per month. Check out the details here under our Monthly Programs.
May Specials
May Flowers Sales:
Free Spirit & Blank Quilting Fabrics: 12% OFF
includes Kaffe and Tula Pink - no coupon necessary

Thread Special: Buy 3 get One FREE ($12 minimum)
Quilt Patterns On Sale: Buy 3 get One FREE ($12minimum)
Coupon Code: MayB3G1
Clearance Fabric: New slelections added - $7.99 per yard or finish-the-bolt of Clearance Fabric and save an additional $1 per yard
Upcoming Classes

Friday, May 12 FREE
Weekend Duffle, Dates Changing - TBD in June
*****************************************************************************************************************
Don't miss out on Retreat Classes at BERNINA Creative Center in Aurora, Illinois. Classes offered both online and in person. Find classes to get in-depth with In-The-Hoop Quilting, Q-matic, Getting to know your BERNINA L890 Overlock, or just a boot camp for your machine. Check out the Creative Center here.

By clicking on the links below to shop at our affiliates, you are helping us to provide continuing education on embroidery and sewing techniques at a reasonable cost. Thank you for your support!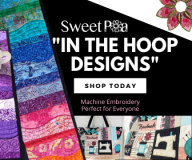 Purchase a SewSteady extension table and save shipping by choosing "Pick Up In Store"