Late Open this Monday
We've been notified that City of Mary Esther will be doing maintenance on water system on Monday, May 9. We will postpone opening until Noon on that date. Thank you for your understanding.

Don't miss out on the great BERNINA specials during May!




We have two AWESOME BOMs scheduled to start in June & July!

Wave Pool by Sherry Smith
Finished size: 72"x84"
A 6-month skill-building block-of-the-month program that will finish in November!
Fabric from Island Batik's Calm Lagoon collection.
Skill Level: Confident/Adventurous Beginner


and Welcome Home by Anna Maria Horner

Kit purchase makes you a member in Anna Maria's Welcome Home Club.
This gives you:
• Access to a series of videos tutorials starring Anna Maria with monthly guidance to make the Welcome Home Quilt.
• Access to a members-only Facebook group filled with other quilters on the same journey.
• Exclusive "quilter's lace" project(s) for club members
Finished size 84"x84"
Stitcher's Quest will have designated "Sew Days" in our classroom for this project June-November 2022.


We have complete kits for both Wave Pool and Welcome Home!










Accuquilt Clearance
Inventory is going fast at 45% OFF
In-Store Only - Please Do Not Call



Items still available:


Arabesque #2 by Ricky Tims 55049
Arabesque #3 by Ricky Tims 55050
Dinosaur Medley 55213
Eagle 55383
Grapes of Wrath 55370
Half Rectangle 55411
1 3/4" Strip Cutter 55083
Swag by Alex Anderson 55108
Holiday Medley 55043
Square on Point 55106
Parallelogram 45 55148
Cookie Decorations 55211
Sleigh & Snowflake 55322
Dove 55350
Reindeer 55353
Snowflake 55359
Music Medley 55482
Strip Cutter 6" 55488
Strip Cutter 2 3/4" 55489
Setting Triangles 4" 55549
Setting Triangles 8" 55551
Setting Triangles 10" 55553
Setting Triangles 12" 55554
Apple Core 55036
Arkansas Travler 55558
Bird 55352
Bowtie 55764
Calico sitting Cat 55065
Camper Limited Edition 55228
Chimney Sweep 55222
2" Uppercase Alphabet 55559
Courtyard 55198
Cross Roads 55533
Crossed Canoes 55181
DIY Face Mask 55185
Emojis Limited Edition 55191
Feathers 55008
Fleur De Lis 55345
Gingerbread Cookie 55862
Glorified Nine Patch 55557
Half Square 4" 55031
Half Square 1" 55765
Half Square 3" 55009
Half Rectangle 3"x6" 55411
Love by Sarah Vedler 55306
Maple Leaf 55195
Peace by Sarah Vedler 55305
Pincushion 55209
Quarter Square 55393
Rick Rack Die 55056
Sparkle Tree by Sarah Vedler 55095
Spider Web 55487
Spring Medley 55494
Square 2"
Square 2 1/2"
Square 2 3/4"
Square on Point 2 5/8"
Square on Point 3 1/4"
Tumbler 55020

Qube 10" Angle Set
Qube 10" Corner Set
Qube 12" Angle Set
Qube 12" Corner Set
Qube 4"
Qube 4" Angle Set
Qube 4" Corner Set
Qube 8" Corner Set
Qube English Paper Piecing Set


Go! Me Starter Set
Go! Die Rack
Go! Die Storage 10"x10"
Go! Die Storage 6"x6"






Plan to join us in April 2023 as we travel to Paducah, KY for AQS Quilt Week! We have the travel and lodging planned! Click here for details!


Upcoming Classes - Click on class name to register:

Foot of the Month Demo - Bernina Stitch Regulator, April 5
The optical sensor of the innovative BSR reacts to the movement of the fabric; the speed of the machine is automatically adjusted to coordinate with the movement of the fabric, aiding in the production of consistent free-motion stitches.
Sunflower Power! 3D Selvage Flowers - Monday, May 9
Save those selvages to use for amazing 3D Flowers. Grab those jelly rolls or other precuts and learn from Jackie!


Ladie's Night Out - May 20
Join us for an evening of sewing and fun! If you would like to bring a pot luck dish, we'll have a table ready.
This month's focus is Row by Row. Join Karol as she works through different ones, share, get ideas and most importantly get a head start on summer quilting!
Sign up is mandatory as we are limited to only 8 people. We can't wait to see you!
and Sew Much More! Click here for full list of classes!

Don't miss out on Retreat Classes at BERNINA Creative Center in Aurora, Illinois. Find classes to get in-depth with In-The-Hoop Quilting, Q-matic, Getting to know your BERNINA L890 Overlock, or just a boot camp for your machine. Check out the Creative Center here.




By clicking on the links below to shop at our affiliates, you are helping us to provide continuing education on embroidery and sewing techniques at a reasonable cost. Thank you for your support!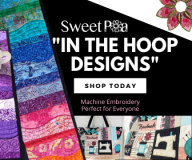 Purchase a SewSteady extension table and save shipping by choosing "Pick Up In Store"