Skip Navigation
Website Accessibility

Bulky items may incur additional shipping charge.
Local? Order online - we will text when your order is ready to pick up!

Accuquilt Club - Saturday, Dec 28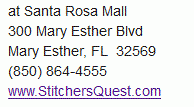 Each month, we offer a different project for Accuquilt Club! Register Here
Our Go Big! Cutter and dies for the current project will be available for demonstration and class use. Attendees are invited to use the store dies to cut enough fabric for one project - usually what can be completed during class. If you love the project or are filled with enthusiasm for additional projects, there will be special pricing on day of class on the dies we use. Come join us for inspiration on using the dies you have and to learn about the newest dies, patterns, and embroidery projects from AccuQuilt!
Register for each month. It is important to be registered at least a week in advance to receive distribution of the supply list.
December - Snowman Place Mat
Supplies for December:
Bring your sewing machine this month! We will be piecing the backgrounds. The snowman is applique, the tree is pieced.
Suggested fabrics - fat quarters: in a variety of cream-on-cream, one of white, and a variety of greens for tree and border. Scraps of bright colors for snowman's hat, scarf, and buttons.
Basic sewing supplies including a 12" ruler, rotary cutter, and thread.
1/2 yard 12" Steam-A-Seam or Steam-A-Seam light
Scheduled Projects for 2020 -
January - Heart Bed Runner
February - Storm at Sea Pillow
March - Rooster Place Mat
April - April Showers Tote
May - Flowers for A Lucky Lady
June - Summer Beach Bag

July- Christmas Joy Pillow

August - Butterfly Pincushion

September - Autumn Bliss
October - Arabesque #2 Table Runner

Current AccuQuilt Specials: