Quilt Festival Specials
Nov 15&16


at Santa Rosa Mall




300 Mary Esther Blvd




Mary Esther, FL 32569




(850) 864-4555


www.StitchersQuest.com

Take Advantage of BERNINA's

QUILT FESTIVAL PRICING

while staying local


Now thru November 3rd!



We have Quilt Festival Pricing on all BERNINA Machines:


Save $2,500 on BERNINA 880 Plus (includes Emb Module, Gift With Purchase and Bernina Stitch Regulator)


Save $2,000 on BERNINA 790 Plus

(includes Emb Module, Gift With Purchase and Bernina Stitch Regulator)


Save $1,500 on BERNINA 590 & 770 QE E (includes Embroidery Module and Bernina Stitch Regulator)
Save $600 + Free BERNINA Stitch Regulator on BERNINA 480
Save $900 on BERNINA 700 or $1,100 on BERNINA 500 (Embroidery Only Models)
Save $700 on BERNINA L460 serger/overlocker (Demo/Event Machines)
Save $100 on BERNINA Sewing Chair


Special Sale Pricing Extended thru October 31:
Halloween Fabric 40% OFF
Thanksgiving and Christmas Fabric 30% OFF
Fat Quarters - Six for $10 (Pre-cut only)
All In-Stock Tutto Bags 30% OFF
Upcoming Classes:
BJ's Designs - Collage Quilts - Oct 31 & Nov 20 @ 10:00
Choose from any of the BJ's Designs collage-type patterns.
Giving Tree - Wednesday, Nov 6
Part of our series from the Mini Wonderful Curves project book.
Lunchbox Christmas - Friday, Nov 8
Choose from any Lunchbox Quilts design.

Saturday Sampler Club - November 9 at 10:30 and 12:30


Don't forget to finish your block from last month and bring it in to receive this month's block FREE! Be on time and in your seat to collect your free block. We'll have door prizes and finish with Show-and-Tell.




Veteran's Day - November 11 - Call for special hours
Seasonal Silhouettes - Applique Quilt Blocks - Wed, Nov 13
Join us to cut and assemble a monthly applique block from the Seasonal Silhouettes collection. We will schedule a class for the month's block once every two months, covering all 12 months in a two-year cycle.


Northern Lights - Wed, Nov 13
Using a beautiful blend of batiks, we will create this stunning quilt.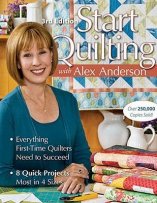 Begin Quilting - Thursdays for six weeks beginning November 14
Learn all the basic techniques for making a quilt. This six-part class will take you through all the steps from choosing fabrics, cutting, sewing together, squaring, and finally to sandwiching and binding your quilt. You will have a completed lap-sized quilt in a traditional Rail Fence pattern upon completion. Fabric is not included in price of class.
Pineapple Twist - Jan 13 at 10:00
The Pineapple Twist pattern uses traditional prairie points in a new and modern way to create irresistible texture in 3 different sizes. The background is made of 2 1/2 inch squares -, so this is a good time for those of you who have the Accuquilt cutter to put it to use! Traditional piecing, raw edge applique and prairie points are used in this quilt. Bring a sewing machine in good working condition, thread, fusible web and sewing supplies (scissors, seam ripper, pins etc) and have you fabric pre-cut according to the pattern and size quilt you want to make.
School of Embroidery with OESD November 15 & 16
Christmas Open House - Monday, December 2, 5:30-7:30