Skip Navigation
Website Accessibility

Bulky items may incur additional shipping charge.
Local? Order online - we will text when your order is ready to pick up!

Upcoming Classes





Learn free-motion quilting using proven daily exercises! In four classes, you will gain confidence with basic shapes. Bring your sewing machine and sew with us! This class will meet four times, every-other-week beginning Monday, September 3, at 5:30 p.m. Register online HERE.


We will be starting a Beginning Quilting Class (a six week course) on Monday, September 10, at 10:15. Register online HERE.


Click HERE for more information on classes or to register online.
Final 3 Days for AWEsome deals on Koala Cabinets and BERNINA sewing machines.
Both sales end Friday, August 31st.
All floor models of Koala are

30% OFF!

Here is your opportunity to save $, get-it-now, and avoid shipping costs. These are cash-and-carry so bring a truck and help to move.
Upcoming EVENT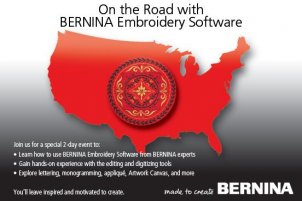 On The Road with BERNINA Software - October 3 & 4
Are you curious about what Embroidery Software can do for your designs? Learn how to take your machine embroidery to the next level of creativity by changing, customizing, or designing an original.
Come learn the outstanding capabilities of BERNINA Embroidery Software 8 from BERNINA'S Software Specialist, Debbi Lashbrook. Gain hands-on experience with editing, lettering, monogramming, and software basics on Day 1. During the second day, applique, Artwork Canvas, and manual digitizing will be explored.

Bring laptop computer with BERNINA Embroidery Software 8.1 or 30 day FREE Trial Version loaded. Trial version is available for download at www.Bernina.com
This is software only - no embroidery machine needed for class.