INDEPENDENCE DAY SALE!
INDEPENDENCE DAY SALE - through Wednesday, July 4
* In-Stock Wideback, Minky, Knits, Rayon, Batiste, and Voile Fabrics 15% Off
* Batiks, Blenders & Collections 15% Off
* Fat Quarters $2, Batik Fat Quarters $2.50
* 15% Off In-Stock Scissors, Rotary Cutters, replacement blades, and Irons
*
Additional 15% off already reduced Clearance Fabric
- 1 yard minimum cut on Clearance Fabric
Red,

White

and

Boom

Sale!
We've just received a special shipment of Express, Collections, and All Access back issues from Anita Goodesign priced at $10, $15, and $25! Stop in and take advantage of these amazing values! Available for a limited time only.


Now is the time to organize your sewing room/area with the help of a

NEW SEWING CABINET!



All floor models of Koala are

30% OFF!

Here is your opportunity to save $, get-it-now, and avoid shipping costs. These are cash-and-carry so bring a truck and help to move.

Our Floor Models include:


Bernina Sewing Station by Koala


designed for the Bernina 5 and 7 Series machines

Choose English Ash White or Ebony



Treasure Chest by Koala


- sew standing or sitting

Floor Model is English White Ash
Our floor model includes 1) Outback Extension 2) Door Shelves
Insert for 7 Series (others sizes can be ordered)



The Koala Cub Plus IV




Compact and efficient. Includes electric glide lift with wireless remote.



Save 30%

on Fashion Sewing Cabinets floor models


Fashion Sewing Cabinet's Quilter's Cloud 9

Electric Lift
Floor Model is Rustic Maple
Insert for 3 Series included

(others sizes can be ordered)




Fashion Sewing Cabinet's Little Cloud

Electric Lift
Floor Model is Rustic Maple
Insert for 3 Series included

(others sizes can be ordered)



BONUS PRICING - In-stock Koala Chair with purchase of cabinet only $159 (normally $399) - while supplies last

Upcoming EVENT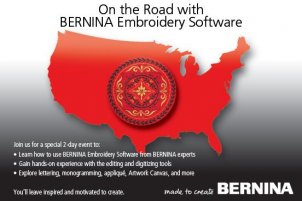 On The Road with BERNINA Software - October 3 & 4
Are you curious about what Embroidery Software can do for your designs? Learn how to take your machine embroidery to the next level of creativity by changing, customizing, or designing an original.
Come learn the outstanding capabilities of BERNINA Embroidery Software 8 from BERNINA'S Software Specialist, Debbi Lashbrook. Gain hands-on experience with editing, lettering, monogramming, and software basics on Day 1. During the second day, applique, Artwork Canvas, and manual digitizing will be explored.

Bring laptop computer with BERNINA Embroidery Software 8.1 or 30 day FREE Trial Version loaded. Trial version is available for download at www.Bernina.com
This is software only - no embroidery machine needed for class.




Upcoming Classes

Click here to visit our calendar or on the photos to register for classes online.
Bernina Q24 Longarm Certification
Multiple dates available
This is the year to get those quilt tops out of the closet! This class will certify you to operate the Q24 longarm for in-store rental! We will cover the basics on how to operate the machine for free-motion, ruler-work, and pantograph. You will learn how to properly maintain the machine, thread the machine and wind bobbin. All materials will be provided.
This certification class will allow you to rent time on our Q24 for free-motion quilting, which includes pantograph tracing and ruler-work. Q-Matic Certification is a second class - this is the prerequisite for Q-Matic Certification.
Bernina Q-Matic Certification
Multiple Dates Available
This class is required prior to scheduling rental time on the Q24 that includes use of the Q-Matic system. Customize your quilt with beautiful quilting that highlights your embroidery, or stitch perfect pantos with the use of the edge-to-edge quilting designs. This approximately 3-hour course will allow you to use the Q-Matic system. Longarm Certification is a prerequisite of this class.


Software Inspirations 10 Lessons Throughout the Year
Dive into BERNINA Embroidery Software 8 DesignerPlus! These ten lessons will continue to explore the features of Software 8. You will appreciate why software is the perfect companion to your embroidery machine.