Upcoming Classes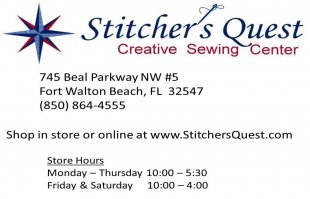 Upcoming Classes
Click here to visit our calendar or on the photos to register for classes online.
We have an opening in our Longarm Certification Class this afternoon (Monday) at 2:00. Only one! Click here to register.
Block of the Month - Beginning this year, our block-of-the-month groups share an open sew day in our classroom each month to work on their blocks, usually the third Wednesday. You can be registered for any or all of our on-going block programs to participate in this sew day. The first meeting for each BOM will have a private class, followed by the shared sew-day each month. We are starting with Cadence Court on March 28th. Register here for Cadence Court.
Hoop Envy Club - Saturday, March 24
This month's Hoop Envy Club will stitch together these fabulous wallets! Register early - seating is limited.


Overlocker Lab - Friday, April 20
Meet BERNINA educator Mary Beck at this event! She will be conducting the Overlocker Lab in our classroom. Choose from a morning or afternoon session (9:00 or 2:00) to experiment will all the threading and stitch choices of BERNINA L450 and L460. SQ will be providing the sergers. This three hour event has limited seating, so register early.

BERNINA Q24 Longarm Certification - Multiple dates available
This is the year to get those quilt tops out of the closet! This class will certify you to operate the Q24 longarm for in-store rental! We will cover the basics on how to operate the machine for free-motion, ruler-work, and pantograph. You will learn how to properly maintain the machine, thread the machine and wind bobbin. All materials will be provided.
This certification class will allow you to rent time on our Q24 for free-motion quilting, which includes pantograph tracing and ruler-work. A second certification class is required for use of the Q-Matic - this is a prerequisite for the second class.


BERNINA Q-Matic Certification - Multiple dates available
SQ requires additonal certificatoin to use our BERNINA state-of-the-art system for automated quilting in conjunction with the Q24 rental. Rental including the Q-Matic is only $25 per hour - well worth the investment!
Click here to reserve a Longarm Rental date. Certification is required.