745 Beal Parkway NW #5
Fort Walton Beach, FL 32547
(850) 864-4555
www.StitchersQuest.com


Look What We Have Planned!
Click here to visit our calendar and register online.
Click here to send an email registration.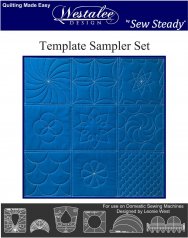 Monday, March 27
will be the second session of our Rulerwork Class - a Quilt-As-You-Go Sampler!
Our first class was lot's of fun an we're really excited about the versatility of these skills. It's not too late to get started and catch up with the class. We will definitely be offering the class a second time, but - due to the length - probably not until late summer/early fall.
Click here for more information on the class.
That's How We Roll! Thursday, March 30 - 10:30 - 1:00
Have fun carrying this bright and beautiful carry-on. It has plenty of pocket space for small accessories such as cellphones. Carol will show you the easy tricks for making this fun and attractive bag.
Skill level: Intermediate
Contact store for supply list.
Cost: $20
Instructor: Carol Stearns


Bag Box Project - Thursday, March 30 - 5:30 to 8 p.m.
Learn how to use a Linda Winner Designs template to make this cute fabric box!
Skill Level: Beginner
Contact store for supply list
Cost: $15
Instructor: Angel Schauer



Also in April:
Mondays - Ruler Work Class - ongoing
Saturday, April 15 - Software Inspirations and DesignWorks Decoded
Tuesday, April 18 - Bag of the Month - TBA
Tuesday, April 25 & Saturday, April 29 - Kimberbell Embroidery Club
Thursday, April 27 - Make Something - Bring your UFO